Rolly shows us how Purex is made
Rolly, one of NZ's favourite dogs
Hi my name is Rolly and I'm a Shar-Pei puppy. I'm on the Purex packs because who could resist this face? I guess my 'rolls' make me extra loveable. I started my TV career in the 90's and I've gained alot of fans, achieving the status of a Kiwi household favourite.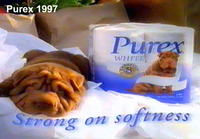 Collectable Rolly!
I'm so soft and cuddly I've inspired a line of plush toys so you can have your own Rolly to cuddle. There have been many collectable versions of me available over the years including an Eco Rolly, Rugby Rolly and of course Classic Rolly.
To celebrate Purex's 65th Birthday in 2021, we had a Birthday Rolly!
Look out for more limited edition packs with a new Rolly collectable toy in the future.