Our history.

1930s
The story of our connection with Kawerau began during the 1930's depression, when the NZ Forest Service began planting the nearby Kaingaroa Forest. The early work was mainly completed using unemployed labour and over time it became the largest plantation forest in the southern hemisphere.
1950s
The Spencer Family owners of Caxton Printing Works were the only manufactures of toilet tissue in New Zealand. In 1951 Caxton (including Purex) moved their toilet roll conversion from downtown Auckland to a new converting site in Henderson, Auckland. (Converting is turning large mother reels of paper into small packaged rolls you purchase from the store. Please visit our product life cycle section for an image of a mother reel and more information on converting).
The Purex Brand name came from New Westminster Paper Mills in Vancouver, Canada where Caxton Printing Works purchased the mother reels and was first used around 1946.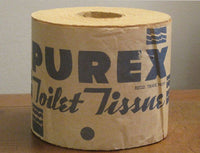 After the second world war the Kawerau site (Bay of Plenty) was established for a large newsprint and pulp mill (Tasman Pulp and Paper) due to its location to the Kaingaroa forest, geothermal power and proximity to the port (Mount Maunganui). Caxton saw the opportunity to establish a tissue mill next to the Tasman site to produce mother tissue reels to replace imported tissue using pulp and steam from the Tasman mill. (A joint venture with Fletchers - soon bought out by Caxton)
The mill started to produce mother reels of tissue and in 1955 Purex NZ was born, the first local toilet roll that was both soft and strong helping make life a little more comfortable for NZ families. Reels of tissue were sent to Henderson Valley Road by rail for conversion into finished Purex toilet paper for sale.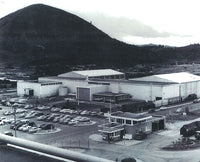 1960s
In 1968, we started shipping mother reels to a factory in Christchurch, where they were converted into toilet rolls for our South Island customers. Would you believe some of those early mother rolls were actually shipped from Port Ohope!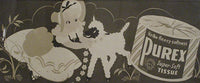 1970s
A second conversion plant was built in Henderson and opened in 1973. The converting of Purex was gradually transferred to this new site, which took until 1992 to complete.
1980s
In 1981 a major improvement in the quality of Purex took place when the product changed from a 1ply sheet to a two ply sheet giving an even softer product. This development was made possible when the tissue machine in Kawerau was rebuilt to incorporate the latest European technology.
In 1986 we opened a new factory at Te Rapa in the Waikato. This was a way of getting round government regulations of the time, which required trucks to have permits when they travelled over a certain distance. Shortly after, Purex converting moved to Te Rapa, with only a small volume still being produced in Henderson.
1990s
This was the decade of Rolly. The cute, cuddly Sharpei dog arrived in the early 90's on Purex packaging and TV commercials. Both he and the infectious 'hey hey Rolly' theme music quickly became well known in kiwi households.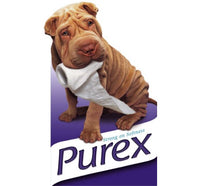 2000s
Rolly became a regular appearance on television, here are some of our favourite commercials.
2010s
In 2014 we moved all of our toilet roll conversion to the Kawerau factory – the same place that has been making the tissue mother reels since 1955. This meant that Purex was now made from start to finish on one site.
Today
Purex has been loved by kiwi households for 65 years. And we continue to live by the values it was built upon – delivering a soft, strong and sustainable product.
Watch our "Happy Birthday Purex" TV ad celebrating 65 years of being made in NZ.