Purex takes another big step forward with sustainable packaging 2023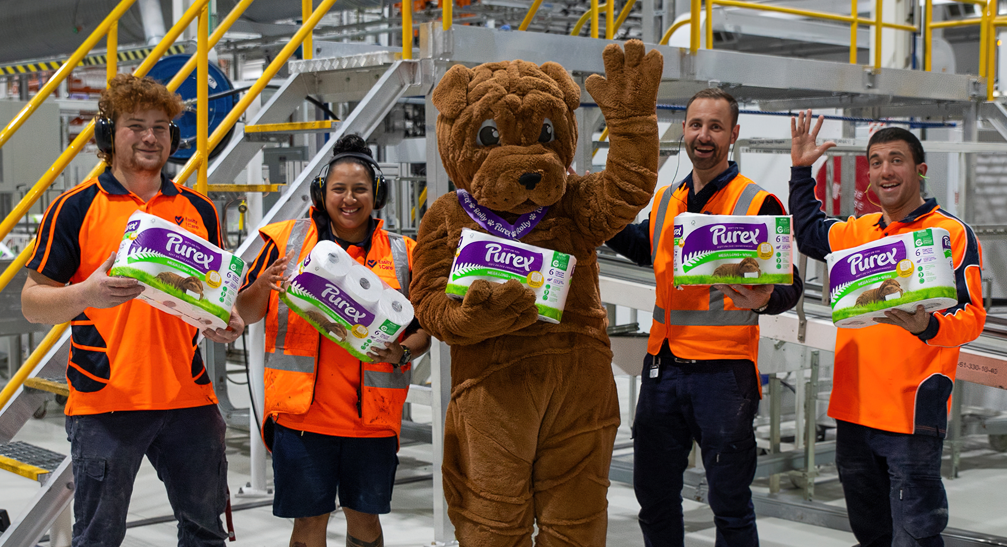 In 2021, Purex along with our other Essity brands Handee Paper Towel and Sorbent Toilet Paper, were the first brands to offer Kiwi shoppers 20% recycled plastic packaging, reducing demand for virgin plastic and supporting the development of a circular economy.
While the shift to recycled soft plastic packaging presents a range of challenges including how it performs during production and limited availability of Post Consumer Recycled (PCR) material, Essity's commitment to innovation at its Kawerau Mill means all three brands will transition to 30% recycled content from August 2023.
By using 30% recycled content, Purex, Handee and Sorbent will save 60 Tonnes of virgin plastic per year; the equivalent weight of approximately eight large African elephants! Our packaging can also continue to be recycled via the Soft Plastics Recycling Scheme in New Zealand.
"We know Kiwis are passionate about plastic waste, so we are excited to be making our products available to our shoppers with more sustainable packaging. Our research into sustainable packaging options shows that using recycled packaging for Handee Paper Towel, Purex and Sorbent Toilet Paper reduces the carbon footprint of our packaging, contributes to the circular economy and reduces plastic waste." said Jake Hatton, Head of Sustainability for Essity's Australasian operations.
"We also hope that having more recycled packaging available on shelves will encourage people to drop off their used packaging at Soft Plastics Recycling Scheme collection points where it can be recycled into useful, long-life products," he said.
Essity's "cradle to grave" product lifecycle for these products has been independently reviewed (via an Environmental Product Declaration). Confirming that whilst packaging contributes to only about 10% of the environmental impact of our products when you look across the full life cycle, it plays a critical role in maintaining product quality and safety for shoppers.  By having 30% recycled plastic content in our packaging we reduce our carbon footprint and make important progress towards achieving our sustainable packaging target of 85% recycled and/or renewable content in our packaging.
Look out for the new 30% recycled packaging products on shelves nationally from August. The new recycled packaging will also be supported with a TV and digital campaign from late-August until mid-October.