Meet the people 2017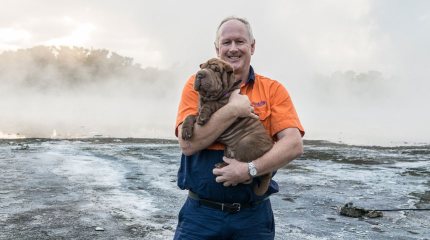 September 2017
We had great fun shooting our new Purex TV commercial in Kawerau. And because it starred some of the local factory team, we thought now was a great time to tell you a bit more about the people who helped bring our unique story to life.
Sasa, Machine Operator
Sasa's been with us for an impressive 19 years. He originally worked at our Henderson factory in Auckland, then transferred to Kawerau in 1999. Sasa commutes from Rotorua, but away from the plant you'd be most likely to find him surfcasting – whenever he gets the chance. He had great fun making the ad.
Snow, Operator/Maintainer
Snow started with us as a qualified machine fitter and now works on the Wide Winder –as an Operator and Fitter. The Wide Winder is the machine that makes the Purex toilet rolls. When he's not keeping that running smoothly, Snow likes to take off for the day on his motorbike.
Ged (left handside), Machine Operator
Ged's been with us for 6 years, originally at our factory in Te Rapa. He transferred to Kawerau when we moved all toilet roll production there in 2014. Ged lives in nearby Awakeri with his wife and two children. He told us shooting the commercial was a great experience – particularly all of the people he got to meet while it was happening.
Mike (right handside), Machine Operator
Mike's another long standing member of the Purex team. He's been with us now for over 16 years as a machine operator. Mike's a Whakatane resident who gets right into his walking and fitness when he's not at work. He says helping out on the ad was great and heaps of fun.